iBasso DX90 with Dignis Leather Case
$ 429.95
iBasso DX90 High Performance Digital Audio Player
Specifications:
Line out:
Frequency Response: 17Hz~20KHz +/-0.1dB
S/N:-119dB +/-1dB
THD+N: 0.0015%
Crosstalk:115dB (1KHz)
Output Level 1.7Vrms (1kHz 0dB)
Headphone out:
Frequency Response: 17Hz~20KHz +/-0.1dB
THD+N:0.0015% (32ohm load)
Output Level: 1.3Vrms(Low gain), 2.0Vrms(Mid gain), 2.8Vrms(High Gain)
S/N: -118dB +/-1dB(Low gain), -116dB +/-1dB(Mid gain), -115dB +/-1dB(High Gain) (32ohm Load)
Crosstalk: 75dB (1KHz, 32ohm Load)
Output Impedance: <0.1ohm
Battery Life: 8.5 hours
Battery Charge Time: 3 hours with AC Adapter, 5.5 hours with PC USB port
On Board Flash: 8GB
Audio Formats Supported: APE, FLAC, WAV, WMA, AAC, ALAC, AIFF, OGG, MP3
Case Dimensions: 2.52@ x 3.98L x 0.67H (inch)
64Wx100Lx17H (mm)
Weight: 140g or 4.94oz
Accessories:
USB cable, Coaxial cable, Burn-in Cable, Silicone case, and Screen protector
View product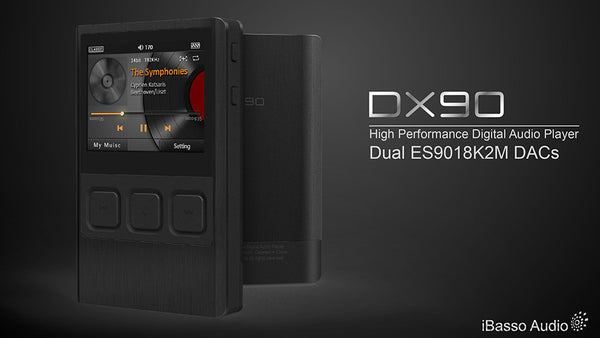 About Us
We are USA distributor of following brands:
iBasso - Headphone Amps, DX50/DX90/DX100 High Resolution Music Players
Dignis - Handcrafted luxury Italian leather case for iBasso, SONY, FiiO, Iphone 6 & 6 plus
Lotoo - Paw Gold and professional recording gear.
xDuoo - Headphone Amplifiers, Tube Amps
Cayin - Headphone Amps C5, C6 and N6 DAP
Fidue - High Definition Earphones A71, A81, and A83
Hidizs - AP100 Digital Audio Player
Aune - Portable Headphone Amplifiers/DAC
Bravo Audio - Headphone Amplifiers
Extreme Audio brand audio cables, portable chargers and accessories.
For wholesale or dealership inquiry, please contact sales@extremeaudiousa.com
All items distributed by us come with one year USA limited warranty.  Please contact your authorized retailer for warranty services.