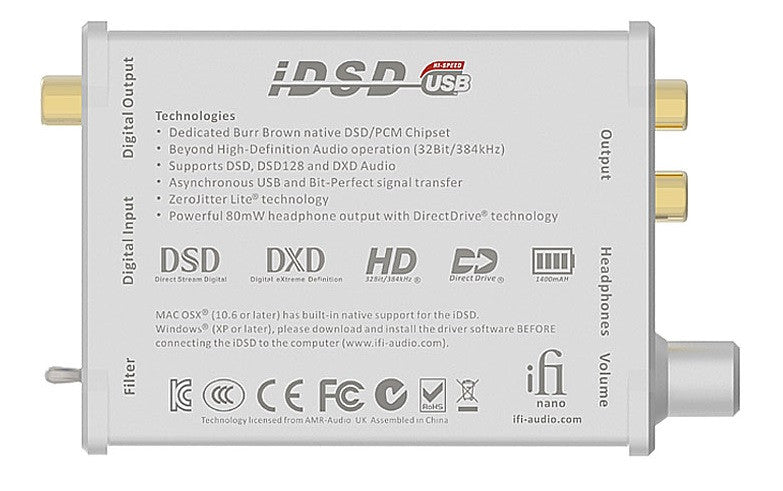 iFi Nano iDSD
The iFi nano iDSD is full of 'firsts.' It is the world's smallest, portable (only 163g), battery-powered, serious DAC that plays ALL high-resolution formats: PCM/DSD/DXD natively.
Its portable form belies its bleeding-edge technological design. With the latest breakthrough True Native® technology from AMR, the music format remains unchanged throughout. PCM (32bit/384kHz), DSD (6.2MHz) and DXD (384kHz) via Computer or iPhone/iPad/Android simply sounds stunning; opening up a whole new world of high-end audio quality to a whole new generation of users.
In a palm-sized chassis with an onboard lithium-polymer battery and headphone output, the iDSD is as extraordinary 'on the go' as it is in a 'high-end system'. It handles Computers/Smartphones with aplomb. It even features an SPDIF coax digital output for A/V receivers or similar to offer unrivalled flexibility.
The iDSD. Small in size. Tremendous in technology.
| | |
| --- | --- |
| Specifications: | |
| Power Source: | Battery/USB Bus power |
| | DAC/Amp always run on battery |
| Battery Life: | ~ 10 Hours playback* |
| Formats: | 44.1/48/88.2/96/176.4/192/384KHz PCM |
| | 2.8/3.1/5.6/6.2MHz DSD |
| | 353/384KHz DXD |
| | Bit-Perfect DSD & DXD DAC by Burr Brown (1-DAC Chip; 2-Channel; 4-Signals) |
| Filter: | PCM: Standard/Minimum Phase digital (selectable) |
| | DSD: Standard/Extended Range analogue (selectable) |
| | DXD: Bit-Perfect Processing, analogue filter (fixed) |
| Input: | USB 2.0 |
| | compatible with iPhone,iPod, iPad and Android Devices USB-OTG# |
| Output | SPDIF RCA (only PCM up to 192KHz) |
| | Audio RCA |
| | 3.5mm Headphone |
| Dynamic Range: | >104dB |
| THD &N (35mW) | < 0.005% |
| THD &N (Line) | < 0.005% |
| Output Power (16R): | > 130mW |
| Output Voltage: | >3.3V (>100Ω) |
| Output Impedance:(Zout): | <1Ω |
| Power Consumption: | < 3W (charging battery and playback together) |
| Dimensions: | 87(l)x68(w)x28(h)mm |
| Weight: | 162g(0.43lbs) |