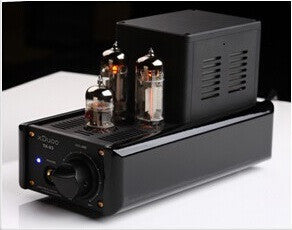 xDuoo TA-01 High Performance USB DAC & Headphone Amplifier
Adopts XMOS chip for USB signal input, works at asynchronous transmission mode, can support up to 192 KHz/24Bit USB signal, can support WASAPI, ASIO, KS Kernel Stream Mode.
Adopts 3X clock structure design.  Ensures the DAC to obtain a first class sound performance. 
Adopts professional DAC chip WM8740*2.
Has built-in tube for pre-amp, transistors for class A buffer. 
Offers not only soft nature but also prevents a loss in the sense of speed
Built-in +/- 15V for OCL (output capacitor-less) circuit.